Family dynamics can be complicated. But what if every member of the family is a practicing artist, expressing themselves not only through words in conversation but also through painting, sculpture, film and sound? This month all six members of the Kaminsky family will bring their individual art to the main room at the Fenix gallery on the Square in Fayetteville. The show will open on First Thursday, August 1st and will be open for the entire month during regular gallery hours. On exhibit will be the art of JoAnn Kaminsky, Hank Kaminsky, Jesse Kaminsky, Isabella Koen, Daniel Kaminsky and Damir Porobic. Fenix artists will be offering their work in response to the theme of family or home.
Families are made up of individuals but how do individuals assert themselves within a family? This show is a visual manifestation of the similarities and differences within one well-defined group. The art in this show was almost all made independently by the individual artists in their studios and it reflects their own unique personalities and interests. When brought into close proximity for this show, it forms a group dynamic and traces the shared experiences and backgrounds of the family of artists. This is the third iteration of the Kaminsky family show and adds another chapter to the ever changing dynamic of this group.
The Kaminskys have been active in the arts in Fayetteville since Jo Ann and Hank moved here with their two boys from Eureka Springs in the 80's. As a family they made art, taught art and advocated for the arts in the community. They built The Art Experience in 1992 as a place where they could create and teach others the benefits of engaging with art on multiple levels. During this time Jo Ann began her Art Therapy practice while Hank began his career in public art. Their two sons grew up in this studio environment but have since moved away to pursue individual art practices as the family continues to expand.
Reception 5 to 8 p.m.
July 24 - August 14th, 2019
Class: Adult Clay Club
Adult Clay Club will be an opportunity to begin or develop your knowledge of ceramics with others in a fun, laid back setting. You will experience the entire process of creating your own unique pieces of pottery through hand building, wheel throwing, and glazing. We will meet once a week for 4 weeks to facilitate this experience, and you will get to keep at least 3 clay creations to take home. The Adult Clay Club is appropriate for those age 18 and above. The 1st and 4th class will be held at Fenix Gallery and 2nd and 3rd will be held at the Art Experience.
All sessions held Wednesdays 6:00 to 8:00 pm
July 24th at Fenix; July 31st at Art Experience; August 7th at Art Experience; August 14th at Fenix
$90 for four weeks
Instructor: Rachel Tebbetts
Image: Rachel Tebbetts, Sacred Things, Stoneware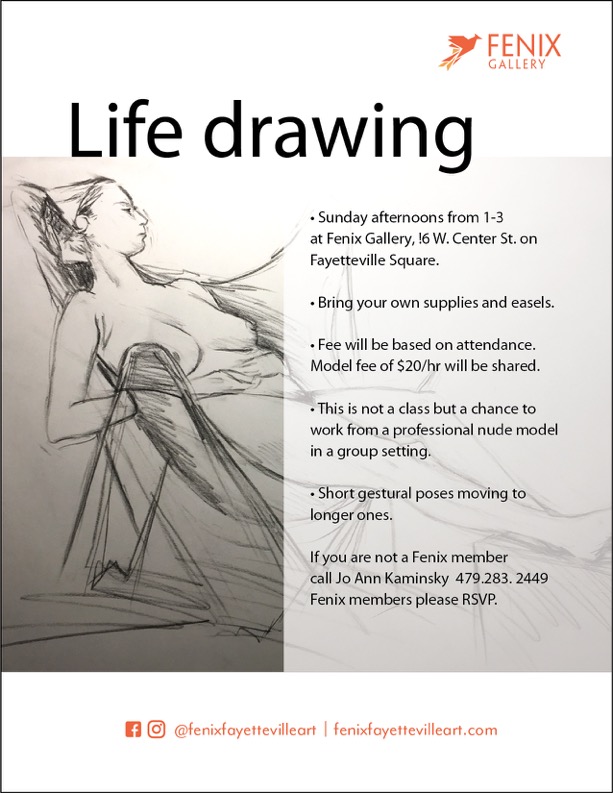 Figure Drawing
Join Fenix artists Sunday afternoons from 1 to 3 p.m. at the Fenix Gallery, as we draw from a professional model in a group setting. Bring your own supplies and easel, model fee will be split based on attendance. We will begin with short gestural poses moving to longer ones.
If you are interested in attending, please contact us by email. Fenix members may RSVP by contacting Jo Ann Kaminsky.
Every Sunday from 1 to 3 p.m. in the gallery.