October 3rd, 2019

October 11th, 2019
Exhibition Reception and Artist Talks
Unbalancing//Jerkbait
This October, Fenix Fayetteville is proud to feature the work of two queer artists in its first two-person show. The show brings together two bodies of work, Pat Hennon's Unbalancing and Robert P Gordon's Jerkbait. The unique show presents bisexuality and androgyny from both a masculine and feminine perspective through two different media. The artists find boundless creative potential in the uncertain; By examining the space and conversation between the feminine and masculine, both internal and external, the artists draw on the chaotic energy of the undefined. Hennon and Gordon harness personal experience and internal conflict to fuel the creative process in their paintings and photographs. The artists are sharing their stories now, at two different points in their life, as both self-empowerment and authentic artistic expression.

Pat Hennon's large-scale figurative oil paintings depict conversations between the internal feminine and masculine rather than the external. The chaotic forces, which fuel the creative process, are brought to balance by their realization that they each need the other. For the artist the feminine and the masculine find balance through androgyny and the act of painting.

Robert P Gordon presents Jerkbait, A series of staged self-portraits in custom frames. the work rejects traditional masculinity as an artificial product of both consumer culture and the masculine tradition of outdoor recreation. By ornamenting his body with fishing tackle, the photographs queer the hyper-masculine activity of fishing and assert the visibility and validity of the queer masculine body.

Fenix artists will respond broadly to the theme of "Gender and Creativity" and more specifically, how gender influences the creative process. How can confusion or clarity about gender's relationship to process be harnessed? The artist's seek to know what energy or challenges gender and sexuality present for the creative work of their peers.

Reception: First Thursday, October 3rd, from 5 to 8 pm.
Artist Talk: Friday, October 11th at 6 pm.
The gallery will be open from 5 to 6 pm before the talk.
UA JAZZ Jams
The UA Jazz Jam features Jake Herzog Trio, a cutting-edge jazz trio that performs new compositions, jazz standards and will be the stand-in band for the jazz jam.

All musicians from Fayetteville and surrounding areas, regardless of skill level, are invited to join in and jam with Jake and his band. Bring your instruments, pick your tunes, and enjoy the music.

Jazz jams with a fantastic back-up band are great fun and also an excellent way for musicians of all levels to expand their skills. Jazz music lovers can come in and enjoy the local talent and diverse music. Invite your friends and enjoy the music!

On the Second Wednesday of each month:
October 9th, November 13th, December 11th, 7-10 PM
$5, cash at the door
BUtoh Performance: Ken Mai
On October 24th Fenix Gallery will host an evening of butoh performances featuring Japanese artist Ken Mai, followed by a dance party. Butoh is a dance developed by Tatsumi Hijakata and Kazuo Ohno in the 1960s in Japan. Out of a desire for an original dance form, and in reaction to the devastation of WWII, and Western cultural influence, Hijakata's Butoh employed elements including imagination, transformation, everyday life, street life, truth, violence, eroticism, connection to the body's inner world, Japanese body, and nature. Kazuo Ohno worked closely with Hijakata. His practice also involved nature, love, and beauty. Butoh dance has been passed down and transformed through students of Hijakata and Ohno. It is specific and interpretable, universal and personal. It is now practiced internationally though still esoteric, avant-garde, and stemming from its roots in Japan.
On October 24th the internationally acclaimed butoh dancer Ken Mai will be performing an excerpt from his new solo "In The Shadow Of The Valley Of Death," to be offered in full at the Helsinki Butoh Festival this November. Ken Mai's performance work highlights love, beauty, life and death, eroticism, and honesty.
The evening of performance and dance is an offering of appreciation and a wish for community love and connection. Besom will give a five week butoh/creative movement workshop leading up to the event focused on soul, dreaming, values, sexuality, community, and love. Workshop participants will present the opening of the show. Keeping in community spirit, following the performances, local DJ Sparkles will provide dance tunes for everyone to dance and enjoy. This event connects with the October exhibition at Fenix both in content and participation as both featured artists will also participate in the opening performance.
Doors open at 7:00
$10 at the door
Adult Clay Club
October is right around the corner, and so is another round of Adult Clay Club! Now enrolling for Wednesday nights October 16 to November 6. Class will be from 6:30 to 8:30 and is a steal at only $90 for 4 classes. This includes instruction, supplies, and your very own unique clay creations to take home at the end. Call 479-871-2348 to enroll or drop by Fenix gallery. You must prepay to reserve your spot.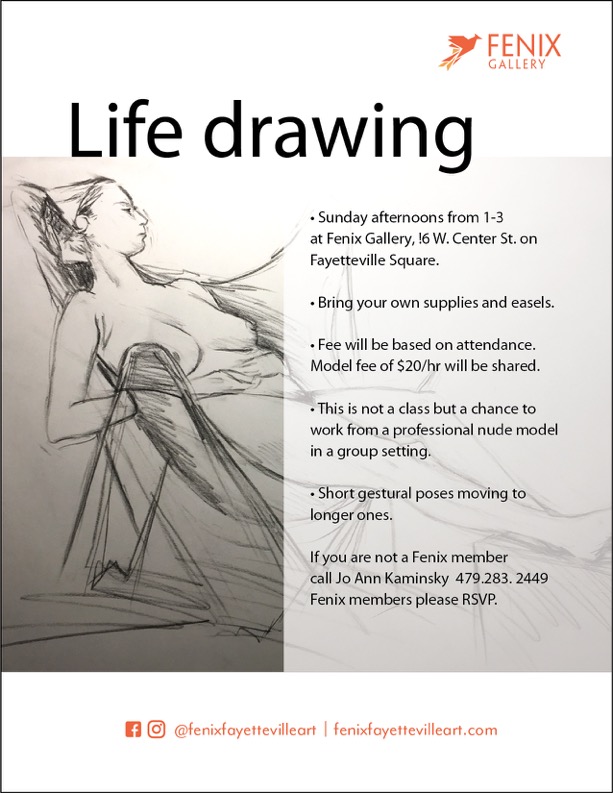 Figure Drawing
Join Fenix artists Sunday afternoons from 1 to 3 p.m. at the Fenix Gallery, as we draw from a professional model in a group setting. Bring your own supplies and easel, model fee will be split based on attendance. We will begin with short gestural poses moving to longer ones.
If you are interested in attending, please contact us by email. Fenix members may RSVP by contacting Jo Ann Kaminsky.
Every Sunday from 1 to 3 p.m. in the gallery.